ENGLISH
Our 5-pylon-cablesystem is located in the south of Hamburg, just 15 minutes away from the city.
One of the biggest wooden decks in Hamburg with a "biergarten", fresh food and a grandiose view on our lake invites everyone who wants to spend a relaxed day at the lake. Cool drinks, nice music, kind and friendly people bringing a good vibe to everyone who wants to hang out or get on the boards.
From beginner to intermediate and professional, everyone is warmly welcome. Our cable park gives every rider the chance to have fun and ride obstacles in many different lines.
The cable can be rented exclusively by groups. The normal rental period is two hours. These two hours contain enough time of riding for a group up to 30 participants. During this time beginners normally learn how to waterski and can try to take the first attempt on a wakeboard.
Exclusive booking is available, please contact us per E-Mail for more information info@wasserski-hamburg.de
price examples:
Saturdays: 8:00 – 10:00 am, 2 hours / € 500  20Pax, Equipment inklusive, Wakeboard € 7 each. if you more than 20 people, its additional 10€ p.P.
Saturday / Sunday: 10:00 – 12:00 am or 6:00 – 8:00 pm, 2 hours / € 1000  20Pax, Equipment all inklusive.
Weekdays in the morning hours: 2 hours / € 500  20Pax, Equipment inklusive, Wakeboard € 7 each. If you more than 20 people, its additional 10€ p.P.
You and your group can also book during our opening hours for public. Prices below
You can get a group discount for more than 10 Pax, it will be 10%,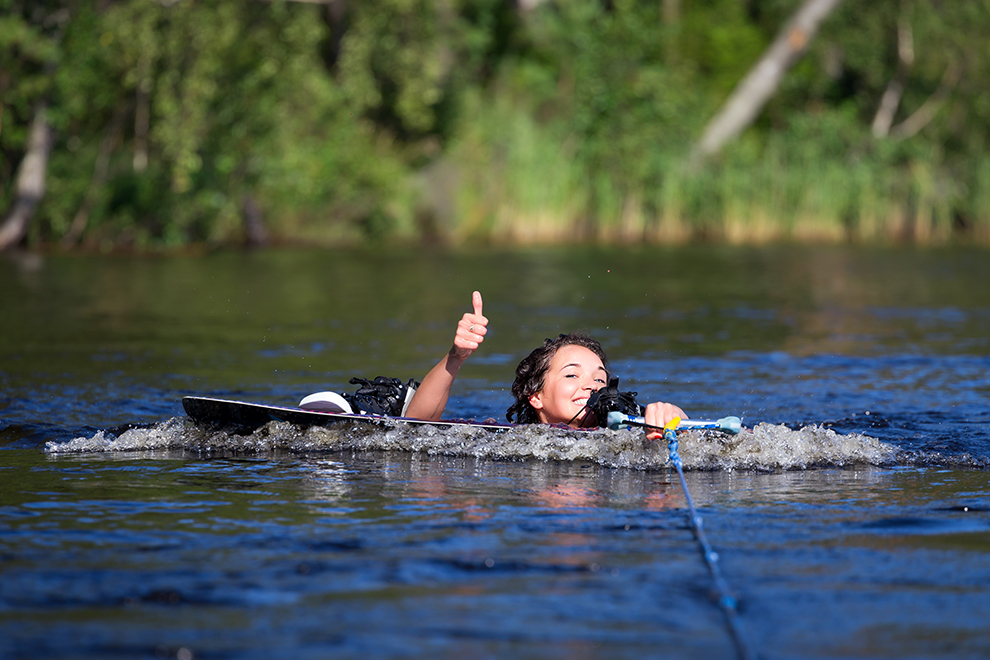 GETTING THERE:
Our cable park can also be easily reached by public transport
Public transport – also check www.hvv.de
15 min from Hamburg City by suburban train / bus.
Suburban train from Hamburg Hauptbahnhof S3/S31 Direction Stade/Neugraben,
Exit Harburg Bahnhof,
from Harburg Bahnhof by Bus No.349 Direction Harburg,
Exit Großmoorbogen (Neuländer See).
Taxi: please check https://www.hamburg.com/getting-around/11874926/taxi-services/
BOOK NOW
For reservation and more infos please contact us: info@wasserski-hamburg.de
Afterwards you can rent a BBQ place on our wooden terrace and complete the experience with a cozy BBQ or you can simply look at our menu for cool drinks and fresh food.
For reservation and special offers in our beach bar please contact: eisvogel-hamburg@gmx.de
We assure you that your order will be performed to your entire satisfaction.
BEGINNER-TICKET
– include Wetsuit, Vest, Wakeboard or
Ski and Instruction 


Ticket without equipment (incl. vest)
pay 10 times = ride 11 times
*) our 1 year season pass is valid for 12 months from the first day of use during the public opening hours within our seasonal opening time from April to October. exceptions: for group rentals, special and exclusive events and openings in the winter season from November to March. you get a discount on purchases in our shop  of 10 %.